Sirloin Steak With Moroccan Onions
Peter J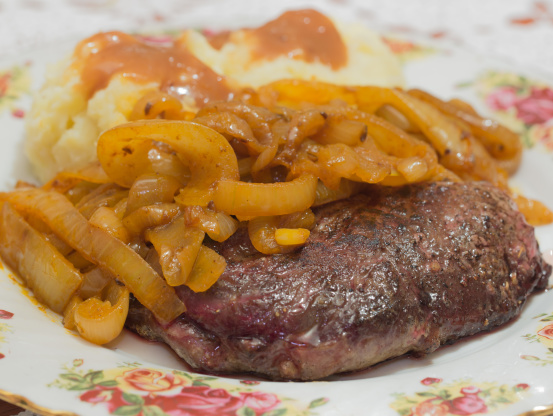 Eating lean doesn't mean you have to avoid beef. There are a number of cuts that are low in saturated fat, and one of my favorites for grilling is top sirloin. Like all beef, top sirloin is rich with nutrients: it's an excellent source of niacin, vitamin B6, iron and riboflavin. Marbling keeps top sirloin moist and flavorful when it's grilled, so it can be cooked with just a sprinkling of seasonings. For the most tender meat, look for a 1-inch piece and don't cook it past medium. While the steak grills, onions are caramelized with robust seasonings for a snappy accompaniment that tastes way more decadent than it is. This recipe is from the Aug./Sept. 2009 Cooking Pleasures magazine.

Delicious! A wonderful blend of spices with a nice tang from the chile / cayenne that went wonderfully with the steak. I noticed step 2 mentioned cooking until the water was evaporated but the spice / paste mix was quite thick so I added a few tablespoons of water that helped incorporate it with the onions well. I liked the fact it can be made in advance, on this occasion being winter I pan fried the steak but come summer it'll be a nice addition for a BBQ that can be quickly warmed back through.
Heat 3 teaspoons of the oil in a large skillet over medium-high heat until hot. Cook onions and 1/2 teaspoon of the salt for 4 minutes or until slightly softened, stirring once.
Add all remaining ingredients except steak and remaining oil and salt; cook 3 minutes or until water has evaporated. Reduce heat to medium, cook 15 minutes or until onions are tender, stirring frequently. (Onions can be made up to 3 days ahead. Cover and refrigerate.).
Meanwhile, heat grill. Brush both sides of steak with remaining 1 teaspoon oil; sprinkle with remaining salt. Grill, covered, over medium heat or coals 8 to 10 minutes for medium-rare to medium, turning once. Serve topped with warm onions.