Nerakay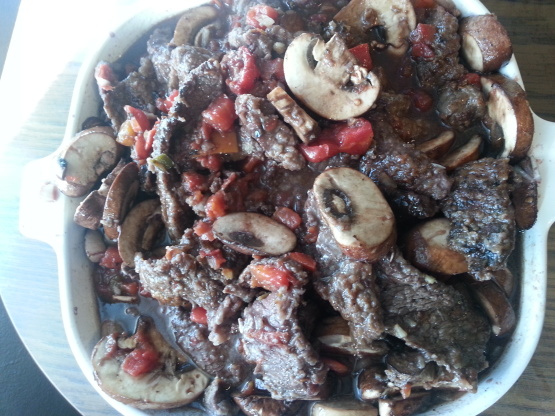 This is similar enough to swiss steak to be comforting, but different enough not to be boring. I often substitute freshly minced garlic for the garlic powder. Serve with mashed potatoes and a green vegetable; I prefer green beans with this.

Bergy came up with the great idea of making one of Lennies recipes to celebrate her recent birthday, this is what I made and am so glad I did. The red wine, with the other flavours make this casserole delicious. I used rib eye steak, and fresh garlic. It was only in the oven for 1 1/4 hours, served with mashed sweet and ordinary potato, green beans and baby carrots. Delicious winter meal!
Preheat oven to 325F degrees.
In a small dish, combine flour, salt, pepper and dry mustard; transfer to a plastic bag.
Cut steak into strips, larger than for stir fry, and place in a large bowl; pour just enough of the red wine onto meat to moisten; reserve remaining wine.
In a large skillet over medium-high heat, heat oil.
Shake steak strips in flour mixture, then brown floured meat in hot oil; place browned strips in a large casserole dish; you may need more oil to brown all your beef.
When done, pour any meat juice/red wine left in bowl steak was in onto browned meat.
Add remaining ingredients, including reserved red wine, to casserole and stir to combine.
Cover tightly and bake for 1-1/2 to 2 hours, or until steak is tender.