Sir James's Beetroot Salad
Rita1652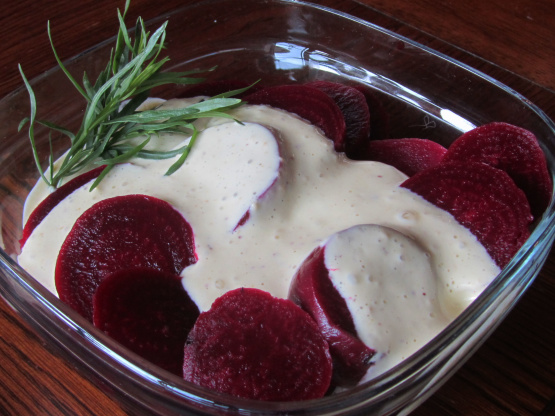 From Theodora Fitzgibbon, The Art of British Cooking. Sir James is Sir James Elphinstone, and the recipe seems to be from 1880. Submitted for Zaar World Tour 6 Great Britain. Prep time is a guess - I never cared to pay attention to it! The beets should be large beets.

LOVED LOVED LOVED this! Tarragon vinegar is perfect with this. And then I went and garnished fresh tarragon which we consumed. Marriage made in haven. For the whipped cream I used strained kefir milk. Made for ZWT #8 Team of the Lively Lemon Lovelies. Cheerio.
To make the sauce, beat the egg yolks well in a basin, then add the mustard, pepper and salt.
The drop by drop add the olive oil and the vinegars, beating well with a fork or whisk as for a mayonnaise.
When the mayonnaise has "taken", add the whipped cream. Keep cold.
Just before serving slice the beetroot and cover with the sauce, poured over the salad not mixed inches.
Theodora Fitzgibbon notes: Sir James remarks: "A spendthrift for oil, a miser for vinegar, and a lunatic to mix it!" Nowadays, of course, a good mechanical mixer may be used in place of the lunatic.