Kate R.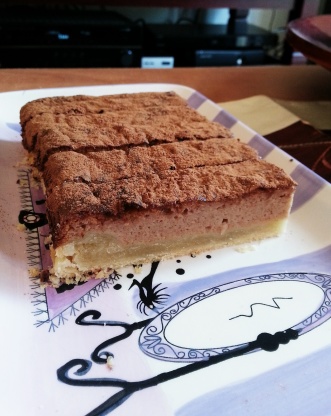 This recipe is from an old "Cooking for Today Magazine", published by Good Housekeeping in 1973. The recipe features in a section of Greek recipes. Posted for Zaar World Tour 2005.
Sift the flour and chop in the butter; add 1 tablespoon of water and work to a smooth paste; roll out and use to line a flat tin with a slight edge.
Mix together the cream cheese, honey, sugar and cinnamon, then mix in the beaten eggs.
Sprinkle the cream cheese mixture over the pastry and sprinkle the top with the extra sugar and cinnamon.
Bake in the centre of the oven, pr-heated to 350F / 180C /gas mark 4, for 30 minutes.
Allow to cool and cut into slices for serving.