CoffeeB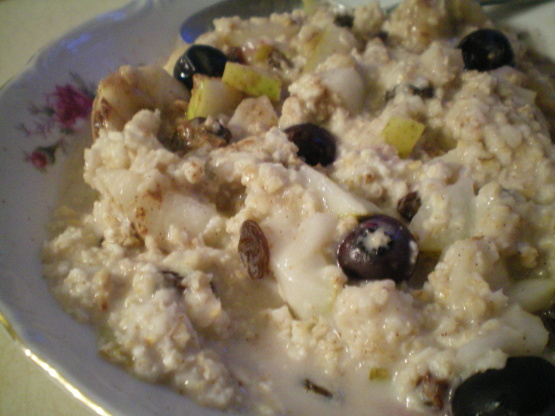 Late August is blueberry season here in Newfoundland, and what better way to use them than in a fruity, oaty breakfast?

I can't believe how something so healthy can be sooooo delicious!! I have made this a total of 6 times and I just can't get enough of it! YUMMY! It's the best breakfast on earth :) Thanks a million!
Mix together the oats, soymilk and dates. Do(If using a different type of date, you may want 1 or 2 extra.) Let soak overnight in the fridge.
In the morning, dice and stir in the apple. Cut the banana lengthwise into quarters, then slice. Stir these small banana pieces along with the blueberries, into the muesli.
It's totally delicious without any nuts or seeds, but I like them anyway for some crunch. My favorites here are pumpkin seeds. Almonds are also good. Enjoy!