Singapore Noodles With Ground Beef and Chickpeas
Redsie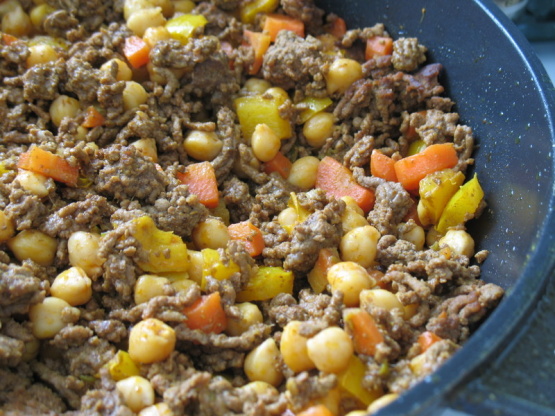 This is an easy recipe that gets it's inspiration from an Indonesian fried rice dish called Nasi Goreng. You may adjust the hot chili paste and curry to taste. prep time does not include cooking the noodles. This dish is is really good!

Top Review by Mrs.R
Kit, this was marvelous!!! I made some changes, not because I didn't agree with the recipe, but because I didn't want to make a trip to the grocery store. I used 2 pkgs. ramen noddles instead of vermicelli because I had some ramen I wanted to use up. I added some more veggies from a stir-fry frozen veggie mix....broccoli, cauliflower, baby corn, peas, etc, and those were a great addition! I upped the beef broth the 1 cup and added a little cornstarch because I wanted to make this recipe stretch a bit. I also used 1/2 lb of ground turkey instead of 1 lb of beef....trying to save a little money. :) The flavors and aroma of this are just delightful! Thanks so much for another winner Kittencal!
Prepare the rice vermicelli according to package directions; set aside.
In a large skillet over medium heat cook the ground beef with green onions, jalapeno pepper (if using) carrots, bell pepper, ginger, garlic and curry powder until the meat is completely cooked through (about 15 minutes) drain fat.
Add in beef broth, soy sauce, chili paste and sugar; bring to a boil over medium heat stirring and simmer for 5 minutes.
Season with black pepper to taste and salt if desired.
Reduce heat to low and add in the cooked noodles and chickpeas; toss to combine until heated through.
Sprinkle with green onions.