merst21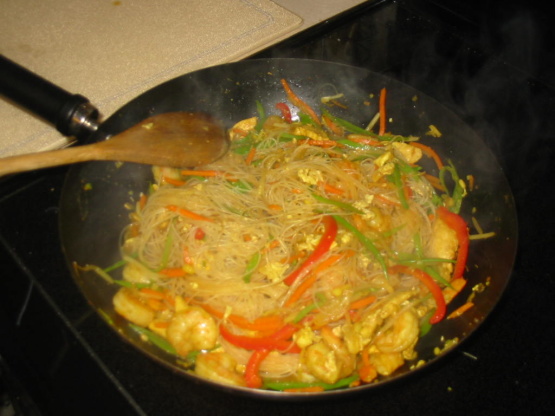 From Cooking Light. Terrific recipe--tastes even better cold, the next day! The snow peas and mung sprouts were my own addition, so feel free to leave them out. Perfect to take to lunch the day after serving for dinner!

Top Review by kjemmo
This was so easy to make, i added more veggies.. the kids loved it
Cook rice noodles according to package directions, leaving out any fat or salt that may be called for.
Combine broth, soy sauce, sugar and salt, and stir together till sugar dissolves.
Heat large nonstick skillet over med-high heat; coat pan with cooking spray.
Add 1 tsp oil.
Add egg; stir-fry 30 seconds or until soft-scrambled, stirring constantly.
Remove from pan, and set aside.
Wipe down pan with cloth or paper towel.
Heat remaining oil (about 2 tsp) in pan over med-high heat.
Add bell pepper, ginger, red pepper, and garlic; stir-fry 15 seconds.
Add snow peas, bean sprouts, curry, and shrimp; stir fry two or three minutes, until shrimp is nearly done.
Stir in egg, noodles and broth mixture; cook 1 minute or until thoroughly heated.
Sprinkle with green onions.