Junebug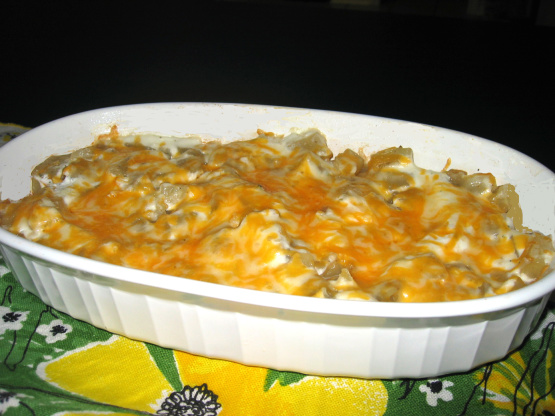 This isn't even remotely 'gourmet', and it certainly doesn't qualify as 'healthy'. But it's so darned good that nobody will care! Well, nobody except the low-carbers. They might do you bodily harm if you put this on the table to tempt them... :)

This was delicious, thanks for sharing!
Preheat oven to 350 degrees.
Scrub potatoes well and pat dry; dice (unpeeled-- don't you just love it?!?) into a 9" x 13" casserole dish.
If preparing a smaller amount, be sure to use a smaller baking dish; the potatoes should form a fairly'solid' layer on the bottom of the dish.
Sprinkle generously with seasoned salt and several grinds of black pepper, tossing several times as seasonings are added so that potatoes are evenly coated.
Cut butter into thin slivers and dot evenly over top of potatoes.
Note: The original recipe called for a whole stick of butter, but I find that makes it greasy-- using 4-5 tablespoons will provide enough to prevent sticking but not overdo.
Cover dish with foil and bake for 1 hour, or until potatoes are tender.
Combine sour cream and ranch dressing mix, stirring well.
Remove potatoes from oven when done; spread sour cream mixture evenly over all.
Sprinkle evenly with grated cheese; return to oven, uncovered, for 5-10 minutes, until cheese melts.