Sinful Snickers Cheesecake
Mama2Ciara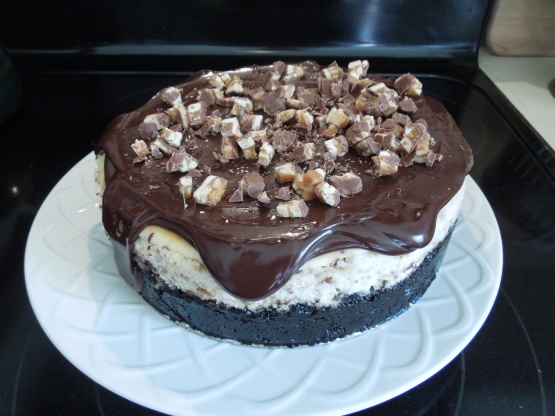 This is AMAZING and only for those who like RICH and very SWEET cheesecake. I made this for my dad on Father's Day, and it took a bit of work, but it turned out amazing. I found the recipe at thepartyworks.com.

Oh my goodness! What an awsome desert. I changed out the snickers for peanut butter cups. I used 15 individual peanut butter cups in place of the 5 snickers bars. This was the hit of our thanksgiving not the turkey! Thanks for posting it.
35

Oreo cookies

59.16

ml butter (melted and cooled)

29.58

ml water

59.14

ml sugar

680.38

g Philadelphia Cream Cheese (at room temperature)

2

eggs

226.79

g sour cream

236.59

ml sugar

354.88

ml semi-sweet chocolate chips

5

(519.64 g) Snickers candy bars (coarsely chopped)

236.59

ml nestle' semi-sweet chocolate chips

29.58

ml butter

141.74

g whipping cream
chopped peanuts, chopped snickers (optional)
Prepare crust: Preheat oven to 375°F.
Cover the bottom of a 10-inch spring-form pan tightly with aluminum foil.
Using a food processor, finely crush all the Oreo cookies.
Add melted butter, water and sugar to the cookie crumbs and continue using processor until the mixture is well blended.
Turn this cookie mixture out into the spring-form pan and using your fingers, gently work the cookie mixture until the bottom of the pan is covered with about one inch up on the sides.
Bake for only 6 or 7 minutes, no longer or the crust will be too hard.
It is okay if the crust rises a little during the baking-- if this occurs, use the flat bottom of a glass to gently press down and set aside to cool.
Prepare filling: Using a large bowl and an electric mixer, beat the cream cheese until it is light and fluffy.
When cream cheese is fluffy, add in one egg and mix well.
Add second egg and mix well.
Add in sour cream and sugar.
Remove electric mixture to gently fold in the Nestle' chocolate chips and chopped Snickers candy bars.
Pour batter onto the crust and spread the mixture out from the middle to all the sides to help it bake evenly.
Cover a cookie sheet with aluminum foil and place spring-form pan in middle and bake at 375F for about 45 minutes, or until top is light brown.
It's ok if the middle of the cheesecake is sunk in a little.
Transfer the cheese cake to a rack and cool while still in the spring-form pan.
Lay a piece of plastic wrap directly on top of the cheesecake and refrigerate (still in spring-form pan) for at least four hours or more- overnight is best.
Prepare glaze: Melt chocolate chips, butter and only 1/3 of the heavy whipping cream in a double boiler over medium heat until just at the melting stage.
Remove from heat and stir mixture until smooth.
(You can use a microwave for this part but ensure the bowl is microwave safe).
While still warm, stir in remaining heavy whipping cream and mix until well blended.
Using a sharp paring knife, run is around the edges of the spring-form pan to gently separate the cheesecake from the pan sides.
Release the spring-form and remove from the cheesecake.
Place cheesecake on serving dish and pour the chocolate glaze into the shallow crater.
Sprinkle crushed peanuts or extra Snickers shavings on top.
Refrigerate to allow the glaze to set.