'sin'amon Brown Sugar Oatmeal
Annacia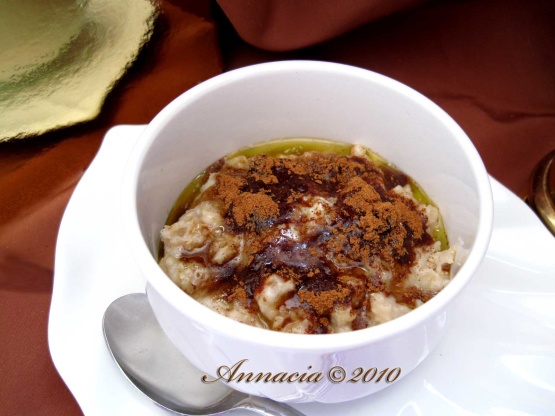 nope, no sin to eat this oatmeal... just tastes like it.

I made my usual size serving of 1/4 cup of old fashioned oats. This is delicious! :D. I dislike oatmeal soup (milk added) and this has everything it needs to make a wonderful and satisfying breakfast. It's healthy and very diabetic friendly. What a great way to start the day. The only thing I did differently was to cook the oats in the microwave as usual and then top it all the goodies to stir in and enjoy.
heat water, brown sugar blend and cinnamon to a boil.
add vanilla, oats and ICBNB spray. (yes, I actually pour the I can't believe it's not butter into a teaspoon and measure).
turn heat down to a simmer, cook about 3-5 minutes depending on what consistency you like for your oatmeal.