MelNTex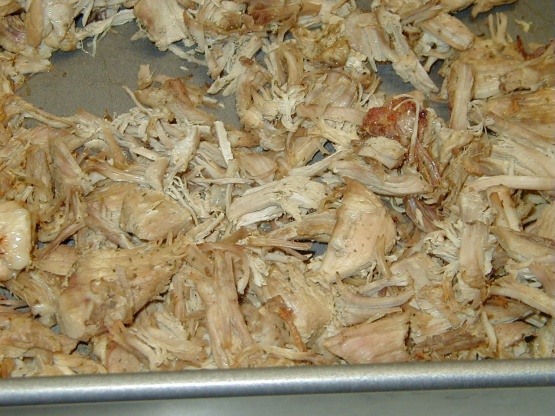 Over the year's people have called me Simpy, hence the recipe name. About 10 years ago, I have never heard of Carnitas, I had it one time in a restaurant and wanted to make it all the time. I found out how easy it was and just put my own twist on it. This is a very easy dish to make and very delicious.

I grew up in South Texas near the Mexican border and can say that this is exactly how Carnitas should taste. The flavor is subtle so that it doesn't overpower the other ingredients piled on at the dinner table: salsa verde, lime, guacamole, fresh cilantro, etc. But of course, "home food" never tastes authentic to the next person because each Mom uses what ever she has on hand and makes it taste just right. That is the beauty of traditional foods.

This recipe is so versatile and cost effective because we have Carnitas and/or Carnitas nachos with a creamy green salsa for the first few days, and then I simmer the remaining meat with rich spices, chiles, etc. to make pork tamales. (Allow the floating grease to remain with the pork when the carnitas are finished cooking. Chill. After it has chilled overnight, scrape the soft lard off the top and mix it with the masa harina to make wonderfully-flavored tamales.)

My family requests this recipe every time pork goes on sale. In fact, I buy extra and freeze one for future carnitas.
Cut the pork meat into 2-3 inch chunks and discard big pieces of fat, leave some fat as it adds to the flavor. Chop the cilantro and quarter the onion.
In a large pot add the pork, onion, cilantro, cumin and chicken broth; turn to medium-high heat. If necessary, add more chicken broth so that the meat is covered. Bring to a boil, reduce heat to low, cover and simmer for about 3-4 hours or until the meat is very soft and pulls apart easily.
Remove the meat and place it in a roasting pan, discarding the onion and broth. Bake for about 20 minutes at 450 degrees, until the meat is brown and crispy.
Serve with corn or flour tortillas, Pico de gallo, hot sauce, sour cream, avocado, cheese, lettuce or what ever you like.