Simply the Best Baked Onion Rings!
V.A.718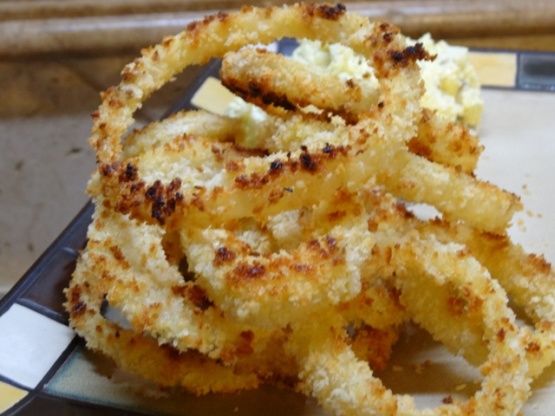 These baked onion rings are incredible! There is no way that you feel like you are eating healthy and low fat when you eat these. This is a slight adaptation of a Yahoo Health recipe. I dip mine in ketchup but my husband is a purist who prefers his plain. And while the prep time can be a little long, make it a social time. I talk to everyone in the house while I make these, and then sit back and enjoy how great they smell as they cook!

I really liked the texture of these, however I felt like I was eating diet food. I think it has great potential changing up the spices a bit, and I would leave out the italian seasoning next time around. I found it easier to put the flour in a tupperware, add a batch of onions and shake it up, rather than hand dipping each one. I think we will try these again, maybe using different spices, possibly trying a cajun version.
Preheat the oven to 400 degrees.
Spray a baking sheet with nonstick spray.
Slice the onions width wise and then break them apart into rings.
Put the flour in 1 bowl, the egg whites into a second, and into the third put the bread crumbs and all the spices (all the rest of the ingredients).
Dip each onion ring into the flour, then the egg whites, and then the bread crumbs.
Place them on the baking sheet and then repeat with the next ring.
Bake them all for about 20 minutes or until crispy.