Simply Sinful Cinnamon Muffins.
Redsie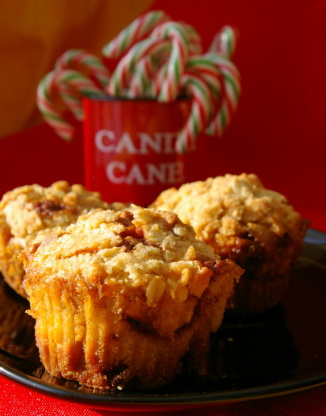 this recipe is from the King Arthur website...the make the most decadent cinnamon filling, that you just need to add water to....that is called for in this recipe..these muffins are absolutely delightful..and the aroma while baking...YUM

Top Review by Redsie
Finally found some cinnamon chips so decided to try these wonderful muffins from King Arthur! If you love cinnamon - you will love love love these!! Had to go and get missing informaton on the King Arthur Flour website as to the filling - should read "substitute 3 tablespoons butter, 1/2 cup brown sugar, and 1 1/2 tablespoons ground cinnamon for the Baker's Cinnamon Filling mix and water". Will be making those again, with or without cinnamon chips!! ;) Thanks grandma!
Preheat oven to 400*.
line a 12 cup muffin pan with cupcake paper liners, or grease it lightly.
Prepare the TOPPING: by mixing the ingredients together until crumbly.set aside.
prepare the FILLING:.
by mixing Baker's cinnamon filling with just enough water to make filling a soft pudding like consistency -- set aside.
to make the BATTER:.
in a large bowl, whisk together the melted butter, milk and eggs.
In a seperate bowl, whisk together the dry ingredients.
add the dry mixture to the liquid, stirring just until combined.
divide half the batter evenly among the muffin cups --
dollop 2 tsps cinnamon filling onto each muffin -- then top with the remaining batter --
sprinkle with topping, pressing it in lightly.
bake the muffins for 20-25 minutes or until they're golden brown --
remove them from the oven and wait 5 minutes before transferring them from the pan to a rack -- to cool.