Simply, Simple Cucumber Slices in Vinegar Dressing- Longmeadow
BecR2400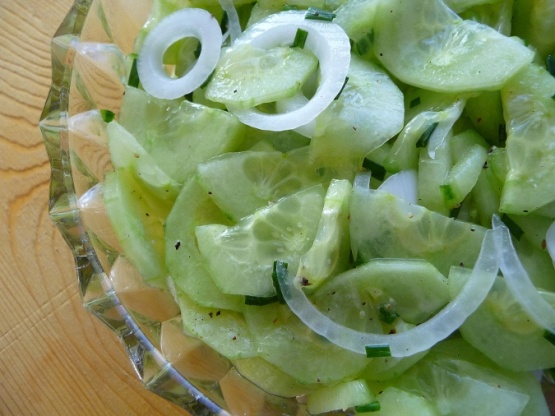 Based loosely on Emeril Legasse's recipe for cucumbers in dressing, but adding thinly sliced white onion and *Mary Jane's Crazy salt* to the dish prior to serving. Cooking time = refrigeration time.

Top Review by Bergy
Mmmm good cukes - I didn't peel them or take out seeds cause it was a skinny little cuke - I was amazed how so little vinegar can give so much flavor. I only made 1/2 an English cuke so cut everything back but I did the vinegar dressing at a ratio of 3 tbsp vinegar(2 + 1). I love the added crazy salt & chili flakes. If I were making the entire recipe I would put the cukes in a ziplock bag so I could keep turning them to get the vinegar evenly distributed on all the slices Thanks andi for a winner
Peel the cucumbers and cut in half lengthwise. Using a small spoon scoop out the seeds and watery center from each half, forming a shallow groove down the center.
Using a sharp paring knife, slice the cucumbers crosswise as thinly as possible, ideally about 1/8-inch thick, or use a mandolin to get even, thin slices.
Place the cucumbers in a colander and sprinkle with the salt. Using clean hands, toss to combine the cucumbers with the salt and allow to stand, refrigerated, for at least 1 hour and up to 2 hours.
Using clean hands, squeeze handfuls of cucumber slices to release any excess liquid and transfer to a medium nonreactive bowl.
In another medium a glass bowl, combine white vinegar, cider vinegar, and sugar, and Crazy salt. Stir until the sugar is completely dissolved.
Pour the vinegar mixture over the cucumbers, adding onion slices, the chopped chives, and red pepper flakes (if using). Stir to combine, serve, or refrigerate up to 12 hours or overnight and serve cold, with a slotted spoon on the side.
Oh boy!