Simply Scrumptious Stilton Steak
Latchy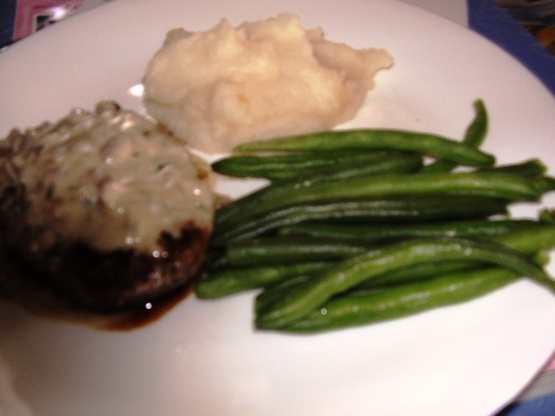 Stilton is a very lovely English blue-veined cheese and, in my opinion, it's worth hunting for it to make this recipe. However, bleu cheese or almost any other blue-veined cheese may be used as a substitute. I would caution against using Gorgonzola cheese because its very strong flavour may be overpowering.

This recipe for the suace was taste tested by numerous friends and family--everyone agrees it's fabulous! Note, however, that when made just as it reads, it can really stretch easily to 4-5 servings because a little goes a long way.
Grill or broil the steaks to your liking.
Melt butter in saucepan and cook onion until soft.
Add sherry and boil to reduce slightly.
Add cream and boil for 1 minute.
Stir in the Stilton cheese and chives.
Serve steaks with sauce, baby red potatoes and fresh or frozen green beans.