Simply Potato Soufflé #5FIX
Towels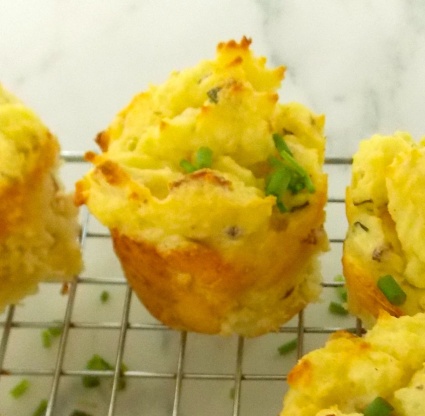 5-Ingredient Fix Contest Entry. The potatoes in the soufflé help them to prevent them from falling. They are light, creamy, and taste divine. Special enough for a fancy dinner, but easy enough to fix for a weekday meal. With Simply Potatoes, they are easy to fold together. Surprisingly effortless and delicious!

Top Review by Towels
My sister gave me this recipe a few months ago. I'm so glad she entered it into the contest. I have now made this dish four times, including taking to a potluck, (where they were the first to go), and into my daughter's school lunch! It's the perfect dish with steaks for a dinner party; my guests loved them. If you're looking for something easy and delicious, give these a try!
Crisp the prosciutto in a 350° oven for 10 minutes. Let cool then crumble into small pieces.
Set oven to 375°.
Separate the egg whites and yolks. Whip the 3 egg whites until stiff.
Mix together the Simply Potatoes, 1 egg yolk, prosciutto, and white cheddar cheese. Fold in the egg whites.
Put the mixture into a greased mini-cheesecake pan. Sprinkle 2 t. of chives on top.
Bake for 25-30 minutes. Let cool for 5 minutes, then remove from pan. Sprinkle the remaining chives on top.