Simply Marinated Cucumbers
teresas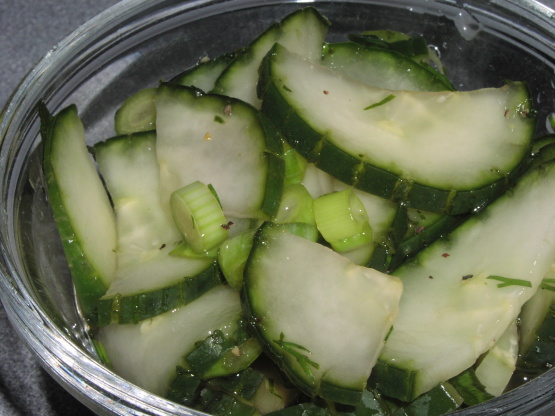 Very simple and light. A nice way to use garden cucumbers.

Yea! 10 years ago I fell in love with the salads served in Bavaria, Germany where they had plates with separated mounds of marinated cucumber slices, shredded carrots or radishes, and French style green beans. I have been trying to duplicate the flavors ever since. This is it! I vary the ingredients according to which vegetable I'm marinating. Often, I omit all but the vinegar and sugar. I have noticed that some red wine vinegars are a lot more sour than others, though. I have had best results using Pompeii brand. Many, many thanks.
Place cucumbers and scallions in a large bowl.
In a seperate bowl, whisk together red wine vinegar, sugar, salt, pepper, and dill. Pour over the cucumber/scallion mixture.
Toss to coat evenly.
Chill for about 2 hours. Toss again before serving.