Simply Herbed up Lamb Steaks
Bergy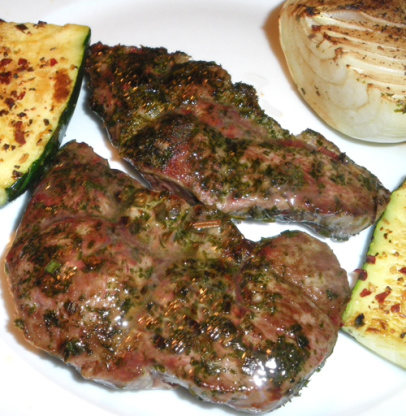 This recipe is best prepared a day ahead. It gives the herbs time to soak into the lamb. The rosemary and tarragon work really well with this dish. We often have this for our Friday night easy dinner with a good Aussie red wine. NOTE: The prep time is for the marinade. I usually only marinate the lamb overnight in the fridge. Cooking time will depend on how you like you lamb cooked.

Top Review by Bergy
Hi Chrissyo Loved this easy recipe. I marinated it for 12 hours. Unfortuneately I had only dried herbs to use but it was still delicious. I will make it again when the garden has fresh herbs - I can't imagine that it could possible be much tastier than with the dried. The touch of lemon is the final great flavor boost - Love Aussie Lamb
Combine herbs, oil and lemon juice in shallow dish.
Add lamb, turn to coat in herb mixture; refrigerate for several hours or overnight.
Barbecue lamb, brushing with herb mixture, until tender.
(We prefer the lamb to still be pink but this works just as well for well done lamb).