Simply Fantastic Rhubarb Custard Pie
Nogs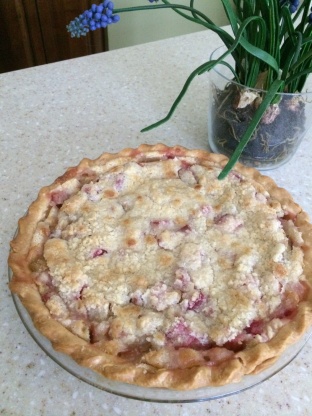 There are several rhubarb custard pies on Zaar but I didn't find any quite like this one. It came from a friend at work and was tried and approved by another co-worker before I finally tried it last night. I think the topping really finishes it off. NOTE: I substituted Splenda for the sugar in the filling and it absolutely could not be detected. (I would have done the same with the topping but DH made the topping for me while I was making the filling.)
I actually should wait until I bake one of my rhubarb custard pies, for which I am famous, so you could see an actual rhubarb custard pie. I do not use a top crust or anything on the top other than the custard. It took me a while to get this recipe right as I got it from my mother and she said put a little of this and this much of that. I have been making my recipe for over 40 years.
Preheat the oven at 350 degrees F.
Stir together the dry ingredients for the filling. Stir in the beaten eggs, then add the chopped rhubarb and mix all together.
Pour into unbaked pie shell.
Topping: Mix together the sugar and flour in a small bowl. Using a fork, cut in the butter until the mixture becomes "crumbly".
Sprinkle topping mixture over the rhubarb filling.
Bake for one hour at 350 degrees F.