Simply Elegant Salad With Balsamic Raspberry Vinaigrette
diner524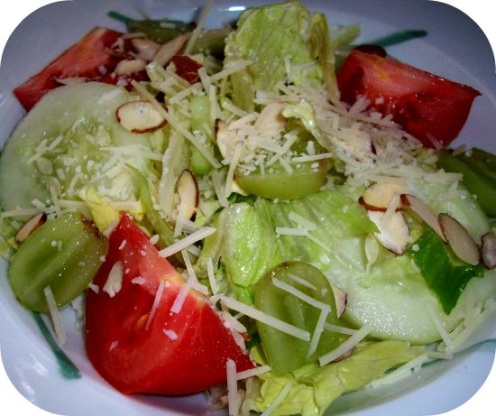 I came up with this salad one day and loved it! Now I bring this salad to dinner parties and it's always a huge hit. The two different vinaigrettes mixed together are a perfect combination of sweet, tart and tangy. For dinner parties with people I don't know well I usually leave the almonds and dressing on the side in case anyone has food allergies; only once has anyone passed on the almonds and dressing. This salad is also great topped with grilled chicken to make the salad a complete dinner.

Great lunch salad with some chicken or shrimp added! We love the Vinaigrette!
591.47

ml lettuce (preferably a spring mix)

78.07

ml cucumber, sliced

118.29

ml cherry tomatoes, halved (or grape tomatoes)

59.14

ml red onion, sliced very thin

59.14

ml grapes, halved (or berries will work too)

44.37

ml almonds, slivered

78.07

ml balsamic vinaigrette (or Red Wine Vinaigrette)

78.07

ml raspberry vinaigrette dressing (Ken's Steakhouse makes a good one)

1.23

ml black pepper, freshly ground
In a medium sized bowl mix the two vinegarettes and black pepper together, stir until well blended. Set aside.
In a large bowl toss lettuce, cuccumbers, onions, grapes, tomatoes and almonds.
Add to veggies the desired amount of dressing, cheese, and more almonds. Enjoy!