Simply Divine Marinara Using Oven Roasted Tomatoes
Cook4_6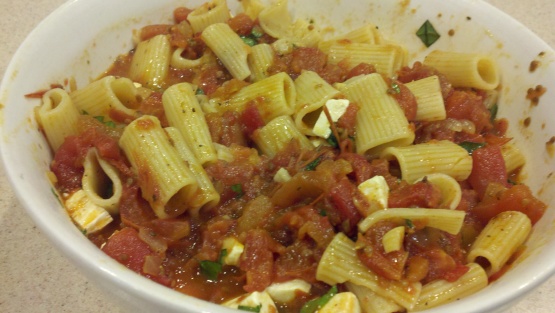 I discovered Breezermom's Aromatic Slow-Roasted Tomatoes Aromatic Slow-Roasted Tomatoes, and decided to use it to make home made marinara and it turned out divine. Toss it with 16 oz of rigatoni, 8 oz. fresh mozzarella, and the rest of the 2 oz of fresh basil for the most delicious Caprese Pasta Dish ever! You can puree all or part of the tomatoes for a smoother sauce. The time does not include the 7 hours to oven roast the tomatoes
Heat oil and butter in a sauce pan.
Add onion and garlic being careful not to burn, cook about 8 minutes until soft.
Add broth and wine and heat to simmer.
Add chopped and/or pureed tomatoes and bring to a boil.
Simmer on low for a minimum of 30 minutes or until the sauce begins to condense and thicken.
Add basil and cook for a few more minutes.
Add salt and pepper to taste.
See instructions above for turning this into a divine caprese style pasta dish!