Simply Delicious Chocolate Peanut Butter Crispy Squares !
Boomette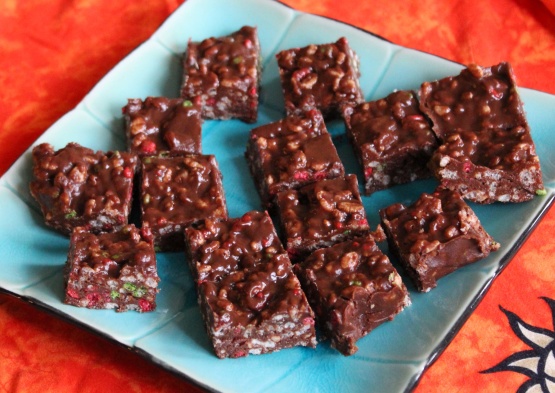 This recipe is a favorite with our family and friends. I especially love it cause it is so yummy and takes only 5 minutes to make. Great to make when in a pinch. If you love the chocolate and peanut butter combination... you will fall in love with this recipe.

Top Review by Noo
Ok-what's not to love about this recipe!! I made this with my children, who thoroughly enjoyed themselves and not only that, the end result was actually more than edible, bearing in mind their involvement!! My DH loves this kind of treat, and this got a big thumbs up. I included the peanuts, and next time I will throw in a few raisins too for good measure. Thanks Snowbaby!! Made for Spring Pac 2010.
In a pot, melt the first three ingredient on low heat while stirring constantly.
Once melted, add in remaining ingredients.
Pour into a parchment lined or well buttered 9x13 pan.
Smooth and lightly press contents into your pan using the back of a spoon.
Refridgerate for 30 minutes.
Cut into desired slices and serve.
Enjoy!