loof751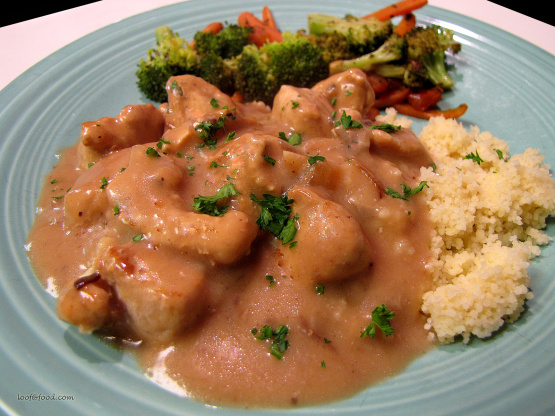 This is a recipe I have made for years that always gets rave reviews. Guests always go home with the recipe. The best thing about this dish is the simplicity of it.

*Made for Australia/NZ Swap #82* Prepared 1/2 recipe, with the only additions- a roughly chopped green pepper (last from the garden), a small can of chopped mushrooms, and 1 tsp salt. Served the 2 of us generously and enough for another night. I usually bake chicken breasts, so this was a tasty change for us. Thanks for posting, CBM !!
In a large skillet melt butter over med-low heat.
Add onion and garlic and cook stirring frequently until onion is translucent.
Add chicken to the skillet and cook until no longer pink.
Next add the cans of cream of mushroom soup and the wine and pepper; stirring well to combine.
If the sauce is to thick you can add more wine to thin it out.
Serve over hot rice and enjoy!