Simply Blueberry & Lemon Muffins
Fauve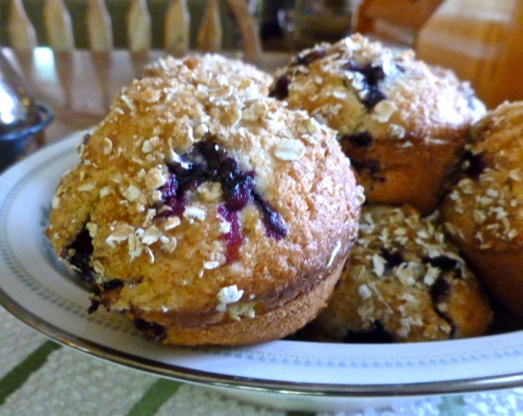 From a Quick Cooking magazine from years ago. I love how simple these are to put together using a biscuit/baking mix. If using frozen blueberries, DO NOT thaw before adding to the batter. These are BEST served WARM.

Top Review by Fauve
Such a perfect, quick fix-up for blueberry muffins! These disappeared quickly. I'm just lucky I managed a shot before these great little muffins were no more.... <br/>I altered the recipe a bit. First of all. I only had about 3/4 cup sour cream. So I made up the difference with almond milk. No problem. Also doubled the blueberries, and added about 1/2 teaspoon of vanilla flavoring. Then, since I was out of lemons, I had to improvise: In a small bowl, I added about 1/4 c. quick oatmeal and maybe about 2 Tbs. brown sugar. Mixed until it was all distributed. Before popping muffins into the oven to bake, I sprinkled the oatmeal mixture evenly on top of each muffin. Result? Delicious and beautiful to behold. Thanks so much for a great "keeper" recipe, HokiesMom!
Preheat your oven to 400F.
In a large bowl, combine the biscuit mix and 1/2 cup sugar.
Whisk the egg and sour cream together and then stir it into the dry ingredients - just until moistened.
Fold in the blueberries.
Fill greased or paper lined muffin cups half full.
Combine the topping ingredients (lemon peel & sugar) and sprinkle over the batter.
Bake for 20-25 minutes.
Cool 5 minutes before removing from pan to a wire rack.