Simplest Cheesy Potato Soup
loof751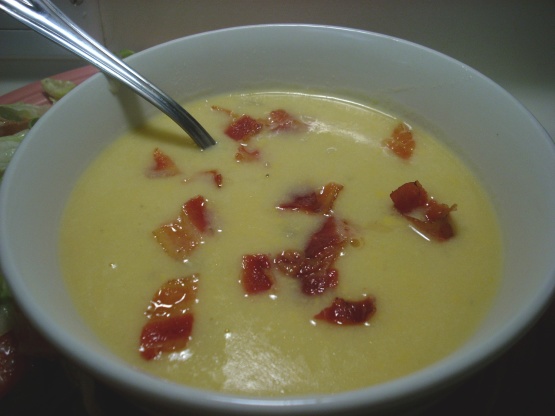 Easy, and with fresh ingredients! Fast and simple, and you control the flavorings. Found this on another site without reference to title or origin.

This soup is quick, easy, filling, yummy! I took Laffer's advice and removed some of the potatoes before I pureed, then added them back into the soup, resulting in a creamy broth with some nice lumps of potato. Served with a salad, we enjoyed this tasty soup - thanks for sharing your recipe! Made for Fall PAC 2008
In a heavy pot, heat oil or melt butter, and saute onion and celery until soft.
Add potatoes and broth and bring to a boil. Then simmer covered for 10-15 minutes.
Puree in a blender, or with an immersion blender until smooth.
Return soup to pan, stir in cheese, milk and seasonings. Cook over low heat until cheese is melted.
Garnish with chopped chives, bacon crumbles, or your favorite topping.