K9 Owned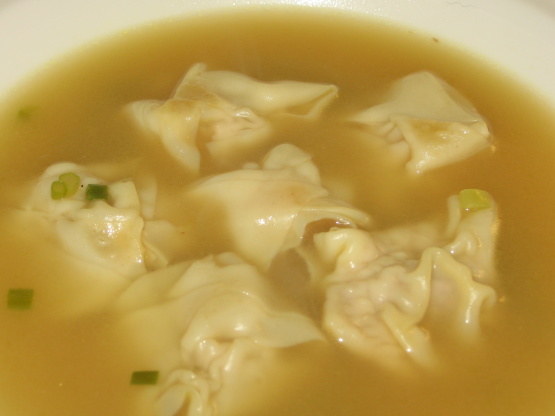 A simple broth loaded with delicious won tons. Why order out when you can easily do it yourself? Sorry, I guessed at the weight of the won ton package.

I made this in two stages as I had to be in an out all day. I did the wontons in the morning and when it was time for dinner it came together in about 15 minutes. I used homemade chicken stock and must not have salted it because I did have to add some. We both loved it and I will be making this many times. The Wonton soup in the can is gross IMO and I like knowing that quality ingredients are nestled in the wontons and not some 'mystery mush'. I served this with Rgg Rolls for an asian soup and sandwich meal.
If you like wonton soup you have to try this one!
Thanks so much for sharing Mumstheword!
Chop the raw chicken breasts into very fine pieces and place in a medium bowl.
Add green onions, ginger, sugar, cornstarch, soy sauce,salt, pepper and oil. Marinate for at least 1/2 hour.
Place the broth ingredients in a large pot (dutch oven) and bring to simmer.
Fill the won ton wrappers by placing about 1/2 teaspoon of filling into the center of each wrapper, moisten edges with water or egg white and fold into a triangle. Press edges to seal.
Using a dutch oven, or large pot, bring about 8 cups of water to a boil.
Drop the won tons into the boiling water a few at a time so that they are not over crowded (maybe 10 - 12 won tons) and let cook for about 5 - 7 minutes. They will float to the top as they cook.
Remove from boiling water with slotted spoon and place the won tons directly into the broth.
Simmer 10-15 minutes longer, then serve.