Simple Whitefish With Lemon and Herbs
Bergy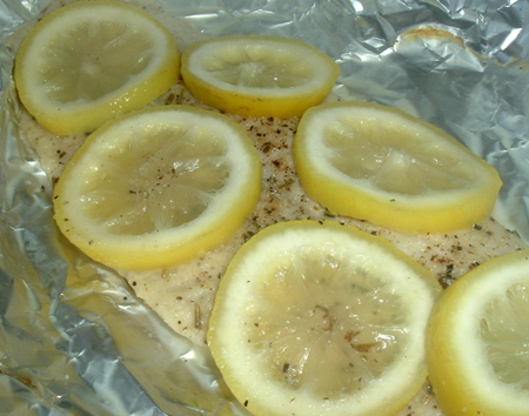 I can't believe something this simple can taste this good. This was actually my very first time making fish, and it turned out absolutely fabulous! This is another recipe from my favorite cookbook, Eating for IBS by Heather Van Vorous. I actually didn't have any rosemary, so I made it with basil and oregano. Try it with your favorite fresh or dried herbs!

Top Review by ctrmom
Everybody was a fan of this delish fish, so we will definitely make it again. My only change will be to cut the black pepper by half. We used basil rather than rosemary.
Preheat oven to 450 F and place a heavy baking sheet in oven to preheat as well.
Cut 4 large rectangles of foil or parchment paper and place a fish fillet in the center of each piece.
Combine remaining ingredients except lemon slices in a small bowl and stir well.
Spread mixture evenly over fish, scatter lemon slices on top, and fold the edges of the foil or paper up over each fillet, crimping edges tightly.
Place packaged fish on preheated baking sheet and bake 13-15 minutes, until fish is just cooked through.
Serve fish in packages.