Simple Twice Baked Potatoes
lazyme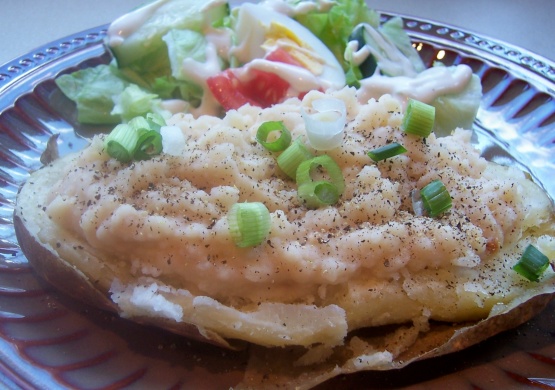 A very simple recipe without cheeses or bacon, but still quite tasty, and potentially quite lowfat. Sorry about the lack of amounts but it is a pretty loosey goosey affair. This recipe freezes well if you freeze it before the second baking and then just pop it in the oven straight from the freezer.

DH and I loved these potatoes! The flavor of the onion soup really worked well. I added colby and Monterey Jack Cheese on top after stuffing with the mashed up potatoes. I also used whipping cream in place of regular milk for a richer taste. I used Recipe #24952 in place of store brought soup mix. Worked out great :) Thanks for sharing the recipe!
Scrub and grease potatoes with vegetable oil.
Bake in oven until well done and crisp (about an hour at 400 F).
While potatoes are still hot, slice them in half lengthwise, and scoop the insides out into a bowl. Reserve the potato shells.
Add butter or margarine to taste, and the onion soup mix. Mash together well.
Slowly add milk to the potato mixture until the consistency is that of fluffy mashed potatoes.
Place mixture back in potato shells. Recipe may be frozen at this point.
Rebake potatoes at 400 F until crispy and browned on top.