Simple Tomato-Spinach-White Bean Soup
YaYa1689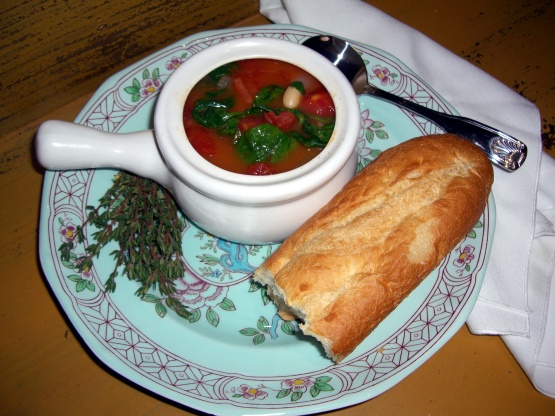 I made this up one winter when I was too lazy to make minestrone, but wanted something kind of similar. REALLY easy and healthy! Measurements and times are approximate.

A very, very delicious and simple soup. To make it even simpler, I used a tsp. of dried thyme and basil and used 6 cups of broth instead of 8. I made it for guests and served it with bread and a salad. Everyone loved it.
Saute garlic and onion in olive oil until tender.
Add tomatoes and herbs and cook until heated through. Season with salt and pepper.
Add beans and broth, and cook until soup simmers. Check for seasoning.
Just before serving, add spinach a handful at a time, until wilted.
Serve--very good with a hunk of crusty bread and a salad.