Kelsey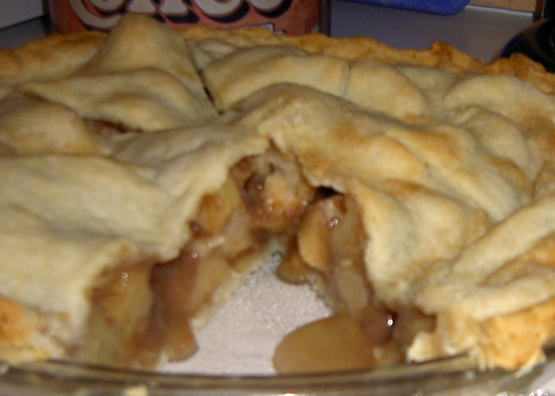 Very good. Used Granny Smith apples so skipped the lemon juice. With that variety of apples, this pie really is not very sweet, but I enjoy being able to taste the fruit in fruit desserts so it was perfect for us. We ate this straight from the oven and it wasn't runny, in fact this surprised me since I really should have let it cool. Some ate the pie with a scoop of vanilla bean ice cream which was yummy, too. Started this pie after I'd started dinner, so used a faster crust recipe #408824 which I didn't prebake. The crust in this recipe is very similar to an all-butter recipe I use often so I'm sure it's very good. That crust really does benefit from chilling first, so given the time, I'd suggest doing so. Baked my pie an additonal 10 minutes. Thanks for sharing the recipe!!
FOR CRUST:.
In a medium to large sized bowl, mix together flour and salt.
Cut in butter with a pastry blender, until you have oatmeal-sized pieces of butter.
Slowly add water, little amounts at a time (you do not want to add too much) and toss with fork until dough starts to come together.
On a lightly floured surface, roll out dough. (This recipe makes the top and bottom crust, divide dough in half before rolling.).
Put one crust in the pie pan, set the other aside.
FOR FILLING:.
Preheat oven 450°F, after 5 minutes of preheating, pre-bake the bottom pie shell 1-2 minutes.
Cut apples and sprinkle with lemon juice (optional), set aside in a medium/large sized bowl.
In another bowl, mix sugars, spices and 2 tbsp flour. Reserve 2-3 tbsp of mixture in a separate bowl.
Toss apples in mixture, and arrange in pie pan (dome shape works well). Sprinkle 1 tsp flour, then with reserved mixture.
Dot with butter, and cover with second crust. Seal/flute edges and slit steam vents.
Bake for 10 minutes at 450°F, then rotate pie and bake 30-35 minutes at 350°F Enjoy!