Simple Sweet and Savory Spiced Walnuts
COOKGIRl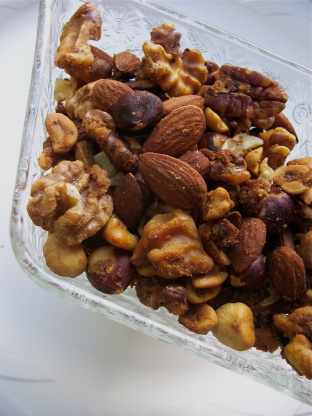 These are really simple and use much less butter than some. They are mildly sweet and mildly spicy---those who love super spicy will have to add cayenne, etc. They are a lovely complement to a glass of sherry or a cheese board to be served with wine. They are a great addition to salads and can be chopped and included in any number of sweet and savory pastries.

I doubled the recipe because I had to made a big batch for our upcoming Easter lunch on Sunday. Four cups of a variety of raw nuts were added: hazelnuts, peanuts, pecans, whole almonds and the walnuts. First I roasted the nuts and whole garlic for about 20-25 minutes @ 350 degrees. In the meantime, melted the butter and added the spices. As soon as the nuts were removed from the oven,the spice mixture was added then proceeded with the recipe as indicated. (I minced the garlic,too.) These are positively addicting! Thanks for posting the recipe.PS the salad suggestion is on my list to try!
Have ready a silpat on a sheet pan or a parchment lined pan on a surface which can withstand heat.
Mash the garlic with the brown sugar and spices to form a paste.
Melt the butter in a non stick skillet over medium heat.
Add the sugar/spice paste to the skillet and, using a wooden spoon or spatula, stir to combine the butter and paste (about a minute or two).
Once it is roughly combined, add the walnuts and stir to coat; this will take no more than a minute or two.
When the walnuts are coated, transfer them to the silpat or parchment.
Spread them out with your wooden spatula and allow to cool.
Store the cooled nuts in a tin or jar.
Use in salads (butter lettuce, beets, blue cheese and these nuts--super!), or as a nibble with cocktails/apertifs.