Simple Strawberry Shortcake
Heirloom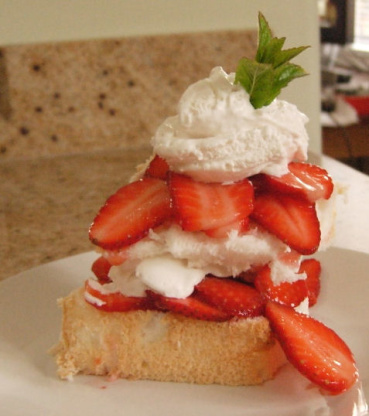 I don't think this really qualifies as a recipe, more like combining a few different items for a super easy, delicious dessert. Throw the strawberries in the fridge before you start making dinner and then put it all together in just a couple minutes after the meal. Big hit with the husband...

Fantastic. This is my favorite dessert! Did not use the mint. I will be making this often during the summer months. Thanks for sharing.
8

ounces fresh strawberries, hulled and sliced lengthwise

1

tablespoon sugar (recommended -- Vegan Cane Sugar)

1

tablespoon lemon juice

1

cup whipped topping (recommended -- Tru Whip, all natural whipped topping)

4

slices angel food cake

2

sprigs mint (to garnish) (optional)
In a ceramic bowl (retains the cold) sprinkle sugar and lemon juice over strawberry slices, mix until combined.
Cover bowl with saran wrap and place in the refrigerator for about one hour.
Place one slice of angel food cake on plate, top with 2 oz strawberry mixture and 1/4 cup of whipped topping. Place second slice of cake over whipped topping, top with 2 oz strawberries and 1/4 cup of whipped topping. Garnish with mint sprig if desired.
Repeat with second shortcake.