Simple Steamed Cabbage, Simply Good
breezermom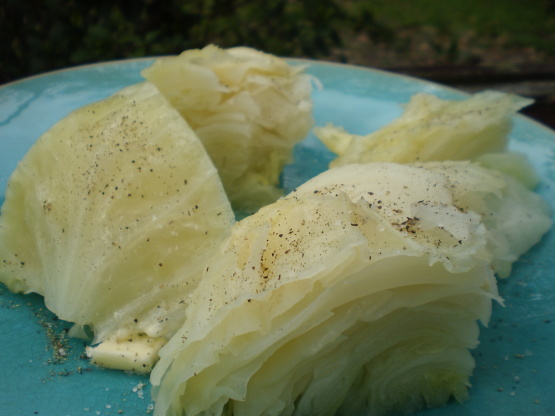 This is another one of those simple recipes that takes minutes to make but are old fashioned good. The cabbage has beautiful color and it is still crisp. Brings out the flavor of the cabbage Use the other half of the cabbage for coldslaw etc.or invite more people over :-)

This is the perfect way to make cabbage in my opinion! I did sprinkle 1/2 teaspoon of red pepper flakes, the second time that I made the cabbage this way. I used to always put the cabbage in with the potatoes and corned beef. While it was of good taste, it certainly was mushy. So you have that problem solved. Now to add the flavor of the cabbage to the pot of corn beef and potatoes, I simply put the cabbage cores into the pot with the meat. Flavor problem solved. If there are any left overs, I chop everything up the next morning and saute all in butter to make a lovely homemade hash, for breakfast.
Cut the 1/2 head of cabbage into 4 wedges, core removed.
they should be about 1 1/2"-2" on the wide side.
Place in a steamer, side by side, one cut side down.
Steam for 6 minutes, flip carefully& steam for a further 6-8 minutes.
Butter lightly, salt& pepper.
Do not over cook.