Simple Spaghetti Squash Parmesan
PaulaG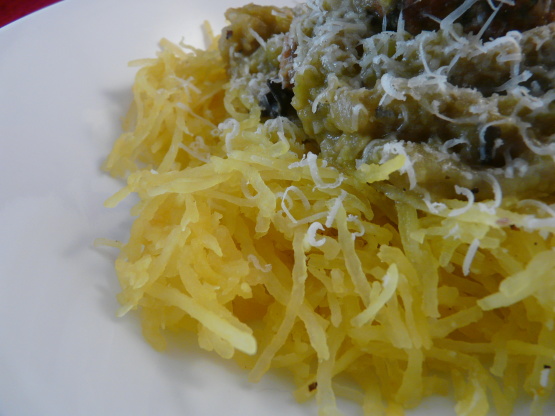 This is a good basic way to serve this crunchy, mild favored squash. For variety, top with sesame seeds, mix with minced fresh basil, or combined with fresh chopped tomatoes. A 3 pound squash yields about 6 cups cooked squash.
The squash can be baked, microwaved or boiled. I choose to microwave. Place squash cut side down in a pan just large enough to hold an 1/4 cup water and cover with plastic wrap.
Microwave on high for 14-15 minutes.
When skin pierces easily with fork, drain and cool. Scoop out and discard the seeds.
With a fork, transfer the spaghetti-like strands from the shell to a casserole dish.
Stir in the remaining ingredients.
Taste to adjust seasoning.