Simple Sour Cream Biscuits
Annacia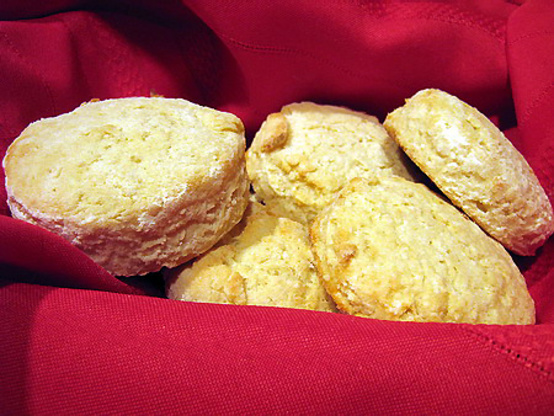 This recipe is perfect for those of us who love homemade biscuits, but only cook for 1 or 2 people. You'll have 4 fresh, warm, tender biscuits on your plate in only 15 minutes. These biscuits cook up so quickly, that you can enjoy them any time of day! Eat them for breakfast, spread with butter, jelly, or honey, or use them to wipe up every drop of gravy off your dinner plate. Also try placing the raw biscuits on top of your favorite pot pie filling, and you'll have a hearty, comforting meal. This is a great way for new cooks to learn how to make biscuits!!

Wow! These WERE very simple and quick & easy to throw together on the spur of the moment. My dough was a little sticky but the floured surface used for kneading was enough to make it less so and workable. I cut mine with the bottom of a drinking glass and got 4 great biscuits that rose nicely and were golden in my oven at 10 mins. I had one leftover that I enjoyed this morning for breakfast with butter & jam. These were tender and light,I was impressed that I made such a nice biscuit! Oh, and I didn't have self rising flour so I used the following substitution to equal the one cup ( 1 cup all purpose flour + 1 1/2 tsps. baking powder + 1/2 tsp. salt)I may try adding a touch of sugar next time for a little sweetness( I'm used to it in my tea biscuit recipe) but these certainly are great as is! Thanks T Girl, I will be making these again! ( T Girl's Cook-a-thon, May 2004)
Combine flour and baking soda, then add remaining ingredients, stirring just to combine.
Place dough on floured surface, knead 4-6 times, then cut into 4 biscuits--you can just use a knife to divide the dough into 4 squares, or use a biscuit cutter for the classic round shape-if you don't have a biscuit cutter, use a drinking glass turned upside down.
Brush tops of biscuits with melted butter, or just lightly spray with non-stick cooking spray.
Bake at 425 degrees for 10 to 12 minutes or until golden brown.