Simple Sour Cream Biscuits
Pamela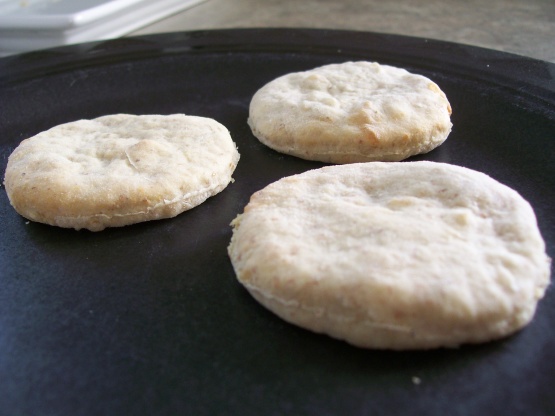 This is an adopted recipe. I made Homemade Biscuit Mix ( Substitute / Copycat / Clone ) with whole wheat flour and use that to make these biscuits. This is a basic recipe so you can add whatever flavours and add-ins that you want: cheese, spices,poppyseeds, etc. Original introdcution>>>"Adds a little more flavor to a plain biscuit. They are very fluffy too! I made these because I was sick of how plain biscuits can taste. I add sour cream to a lot of recipes and it seems to *fix* the flavor of some things, including biscuits."

I had these for breakfast with gravy on them. They were good. Very easy to make. I did have to add more of the sour cream/water mixture. I will be making these again.
Pre-heat oven to 450 degrees.
Lightly spray or grease cookie sheet.
In a large bowl, add biscuit mix.
In a measuring cup, measure sour cream.
In the same measuring cup, add water.
Stir well till it looks like milk.
Add to biscuit mix, knead with fingers.
On a floured surface, roll out dough balls into flour to about 1/2 inch thick. Cut with a cookie cutter or rim of a glass.
Bake for 10 minutes.