diner524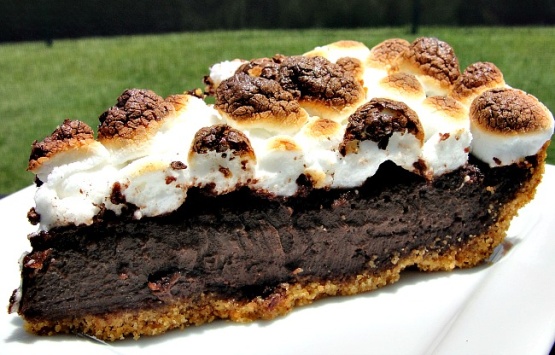 Another great find in the AllYou Nov. 2011 edition. Very easy to make and uses easy to find ingredients. Note: you have to cool pie crust completely before filling so allow time for that to happen.
Wonderful pie!!! I made this exactly as written and it was a hit at our 4th of July weekend BBQ with my DS and his girlfriend!! This is a very rich, chocolate pie. I would suggest you cut 1/2 of your normal slice of pie. Brings back childhood memories of smores when I was off at camp. Thanks for sharing the recipe!!!
Melt butter and let cool for the pie crust. Preheat oven to 350°F.
To make crust: Combine, cracker crumbs, cooled butter and sugar in a bowl. Mix well and transfer to a 9-inch pie plate. Press evenly over the bottom and sides of plate.
Bake pie shell until firm about 10 minutes. Cool completely on a wire rack.
For filling: Bring cream to a boil over medium-high heat.
Place chocolate in a bowl; pour cream on top. Let sit for 5 minutes, then stir until smooth.
Whisk in eggs and vanilla.
Pour chocolate mixture into crust.
Bake until set, about 25 minutes. Cool on a rack.
Just before serving, preheat broiler to high. Set an oven rack 5 inches from heat source.
Spread marshmallows over top of pie. Broil until toasted WATCH CAREFULLY to prevent scorching - only takes about 20-30 SECONDS.