Simple Simons Birthday Bones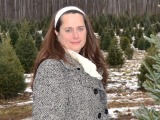 This recipe is from my "3 Dogs Bakery Cookbook". A cookbook especially for dogs. The recipes are natural and you could eat them yourself if you wanted to. My dogs love these.
Directions
Preheat oven to 375 degrees.
In a bowl combine flour and baking powder.
In another bowl combine milk and peanut butter.
Mix wet and dry ingredients together. Mix well.
Turn out dough on a lightly floured surface and knead.
Roll out dough to 1/4 inch thick and cut into shapes.
Place on a greased baking sheet and bake for 20 minutes or until lightly brown.
Cool on a rack and store in an airtight container.