Simple Simons Birthday Bones
Lucky13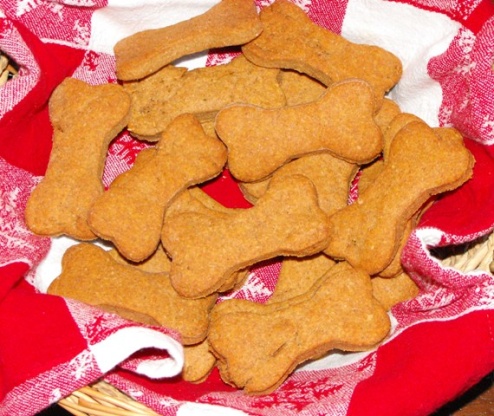 This recipe is from my "3 Dogs Bakery Cookbook". A cookbook especially for dogs. The recipes are natural and you could eat them yourself if you wanted to. My dogs love these.
These were a snap to make and the ladies loved them. They were a little hesitant at first because they don't really know about peanut butter. But once they tried them they liked them. Made for PAC Spring 2012.
Preheat oven to 375 degrees.
In a bowl combine flour and baking powder.
In another bowl combine milk and peanut butter.
Mix wet and dry ingredients together. Mix well.
Turn out dough on a lightly floured surface and knead.
Roll out dough to 1/4 inch thick and cut into shapes.
Place on a greased baking sheet and bake for 20 minutes or until lightly brown.
Cool on a rack and store in an airtight container.