Parsley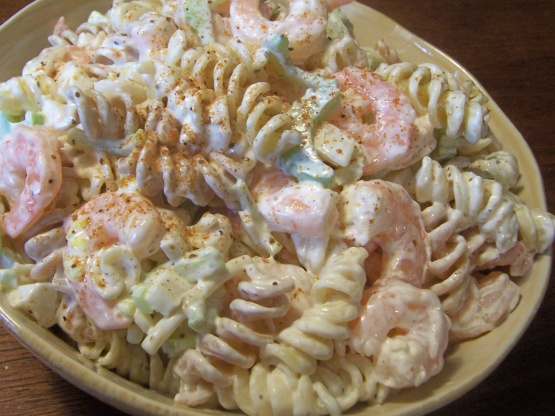 This is a classic summertime dish in my family - great on hot summer days. We usually had this with sliced tomatoes (eat them raw with salt and pepper) and sliced cucumbers in vinegar with pepper. I don't use mayonnaise enough to have gotten used to fat free mayo, but if you're used to it, please feel free to substitute. I usually cook the pasta in a pot with a lid, then mix the salad in the cooking pot to save cleanup time. Cook time is just for the pasta; prep time does not include chilling.
Cook pasta until al dente, then drain and cool.
Stir in onions, celery, and shrimp.
Stir in just enough mayonnaise to coat.
I usually use between 1/2 and 3/4 cup, but adjust to your taste.
Season with salt and pepper and chill overnight before serving.