Simple Scalloped Potatoes
Swirling F.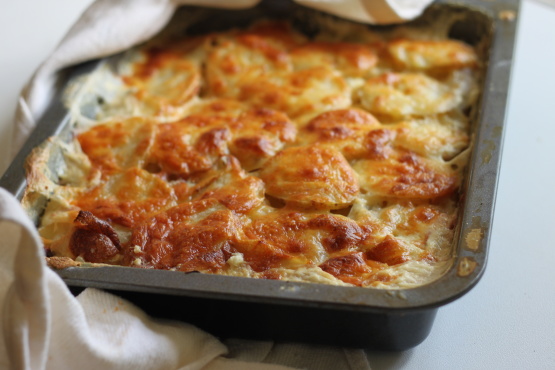 My mother asked me to bring scalloped to Thanksgiving dinner. This is my usual recipe. It's really easy to make. When I first started making it DD asked me to add chopped broccoli to it next time. When she's home I do just that. It adds a nice bit of colour and flavour to this dish. If you use your food processor to slice the potatoes and chop the onions, preparation is a breeze. Found in Anne Lindsay's Lighthearted Everyday Cooking. I really don't care what you call it, it's still a 'rose'. Let's not get bent out of shape over the name and focus on food. This recipe is easy to prepare, very tasty and well worth an open minded try. My only suggestion is to be careful about putting the cheese on too soon. Too long of a bake can ruin the texture.
8

medium potatoes, thinly sliced

1

large onion, chopped

2

tablespoons all-purpose flour
salt and pepper, to taste

2

cups milk, hot

1

cup part-skim cheddar cheese, shredded
Spray a 13"x9" baking dish with nonstick coating.
Arrange 1/3 of the potatoes over the bottom of the dish, sprinkle with 1/2 of the onion and top with 1/2 of the flour.
Repeat the layers then arrange the remaining potatoes over the top.
Pour the hot milk over everything and sprinkle with the cheese.
Bake, uncovered, for 1 hour at 350F or until the potatoes are tender.