Simple Savory Mashed Sweet Potatoes
ImPat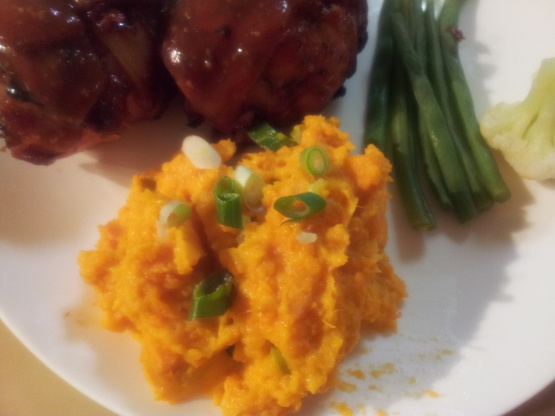 These simply mashed sweet potatoes taste so good it's hard to stop eating them! It's amazing what just a little butter, sour cream and a few scallions can do without all the frills we usually add. Then again, the beautiful sweet potato doesn't need much help. These make a wonderful addition to a hearty meal and pair well with most meats, especially pork. I pre-bake the potatoes in the oven because I think they have the best flavor, but I included steps for cooking them in the microwave as well. The dish will take from 25 minutes using the microwave to 65 minutes using the oven, not counting the cooling period post cooking.
Wash and scrub the sweet potatoes; pat dry.
To bake the sweet potatoes, preheat the oven to 400 degrees F. Place pricked potatoes on a foil-lined baking pan to catch any juices that leak, then into the preheated oven and cook for 45 minutes, or until the potatoes are fully cooked and tender, up to 1 hour.
To cook the sweet potatoes more quickly, carefully prick each sweet potato about 6 times, place in microwave oven on a paper towel and cook on High 15 to 17 minutes, or until a knife is easily inserted into center of potatoes.
When cool enough to handle, remove skin and any dark spots from potatoes. In a medium bowl, mash potatoes with butter and season with salt and pepper. Stir in sour cream and scallions until well mixed. Serve immediately sprinkled with reserved green onions on top.