Bergy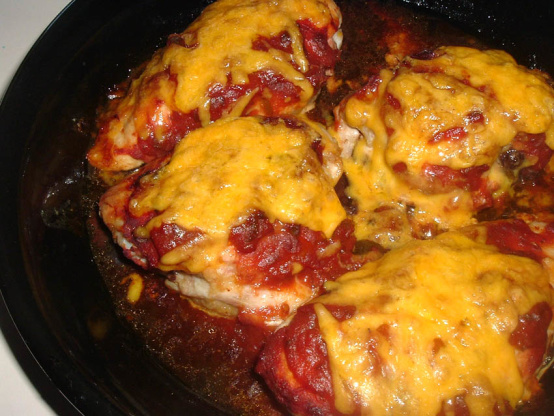 Ok, so this can serve 10 people, if each person only has one piece, but I'm thinking it will fit 5 people perfectly. This recipe was scaled down from quite a high number, so feel free to add more seasonings, sauce or cheese if desired. Also, you can top with sour cream when serving.

Top Review by Bergy
This is so easy and comes out a taste treat - I used a couple of thighs and a couple of breasts and cut the recipe back accordingly. Takes minutes to put together and then it minds itself until the last addition of the salsa & cheddar. I did add a dollop of Light sour cream served with Patty Pan Squash, Carrots & Green Beans Thanks Bec for posting
Spray a shallow baking dish with cooking spray (or lightly grease).
Place chicken in the dish and sprinkle with taco seasoning and .5 cup plus 2.5 tablespoons of picante sauce (a).
Bake at 375 degrees until internal temp reaches 170 degrees (25 to 35 minutes).
Add another .5 cup plus 2.5 tablespoons of picante sauce (b) and the 2.5 ounces shredded cheddar cheese, and bake an additional 5 minutes until cheese is melted.