dojemi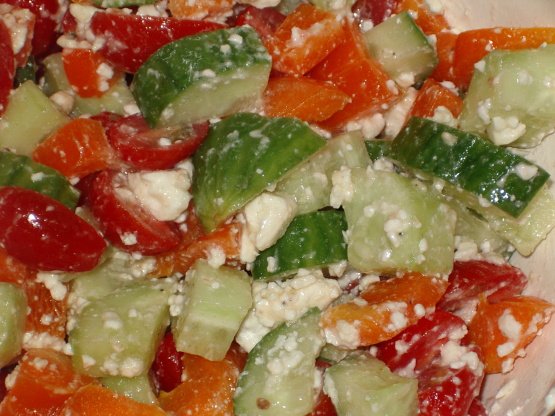 In keeping with The South Beach Diet I often fix this kind of salad when we just aren't in the mood for lettuce. For tastier results I recommend that the cucumbers and peppers be cold.........straight from the fridge. Of course, more veggies can be added, if you prefer.
2

pickling cucumbers (my preference)
1⁄2 large bell pepper (any color, but we prefer red, orange or yellow)

2

feta cheese, crumbled (amount is to your liking)
newman sugar-free olive oil and vinegar dressing
Slice cucumbers into quarters (no need to peel). Cut peppers into bite-size pieces.
Cut grape tomatoes in half.
Put all vegetables into a bowl.
Sprinkled with Feta cheese.
Add dressing (amounts depends on your preference).
Toss well.