Prep 10 mins
Cook 40 mins

Another simple, delicious recipe from my friend Chris. Cooking for 40 minutes will result in completely broken down lentils and well melded flavours. If you like your lentils to retain their shape, cook for only 20 minutes. This will thicken on standing, so add more water when reheating for leftovers. Freezes well.
Directions
Heat a heavy based saucepan over medium heat and add oil. When hot, add onion, ginger, garlic, chilli, 1 tsp sea salt and cumin and cook for 10 minutes, stirring occasionally until onion is soft.
Add lentils and 750 mls of water and cook, stirring occasionally, for 40 minutes over medium-low heat until lentils have dissolved. Keep an eye on the moisture level and add more water depending on desired consistency.
Remove from heat and stir through lime juice. Top with coriander leaves.
Serve over rice or as a soup.
Reviews
Most Helpful
This recipe was a fantastic base for many flavourings but by itself, it was just a little bland for my family. We jazzed it up with a tbs of curry powder and a tin of kidney beans.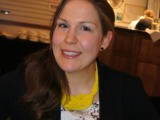 sensational and easy!
veryvery good