Simple Quick & Easy Hamburger Hash
-Sheri-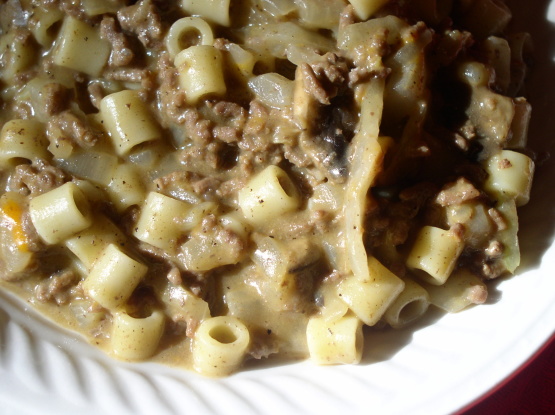 Created it myself utilizing my microwave, and avoiding browning the meat in a greasy frying pan..,

This is very good and usually you will have everything you need to whip this up for a quick dinner. For my families taste, I did add a bit more of the gravy and seasonings. I added the cheese right along with everthing else and at the end added the macaroni. It turned out great.
In a microwavable casserole dish, cook hamburger on high for approximately 5 minutes.
Saute mushrooms very lightly in fry pan,using pan spray.
To partially cooked hamburger, add onion, mushrooms, beef flavor,garlic, flour mixed with enough water to form a paste --
Stir well and cook again at medium level power for another 5 minutes --
Now add enough water to create a little more gravy. Also add the precooked macaroni & grated cheese.
Cook again on medium power until hot,5 to 10 minutes -- .