Simple Paneer Makhani (Vegetarian)
Rez 70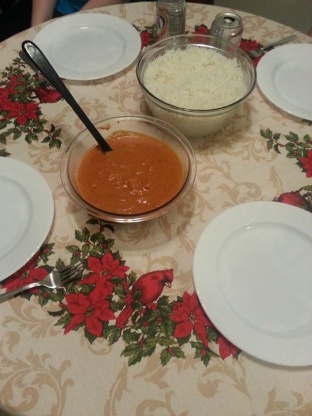 A wonderful Indian dish that can be vegetarian with the paneer or can be made with chicken instead. If using chicken, put in 2 chicken breast cubed. There are other recipes where the paneer is seasoned and such, but this is a quick dinner. As a side note... we live in an area where getting Paneer is difficult sometimes. Our local superstore sells a cheese called Panela though. A Mexican version of Paneer. It's a little saltier, but for the most part almost the same and cheaper. It's in with the queso cheeses.
Cube paneer to bite size pieces.
Melt butter and add bay leaves. Heat for a while until there is a good aroma.
Remove bay leaves.
Add all spices and mix.
Add garlic and brown some.
Add tomato puree, mix and heat to a simmer.
Stir in paneer and whipping cream.
Add water if needed to make thinner.
Serve over basmati rice.