COOKGIRl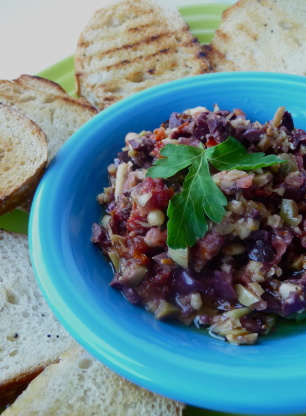 A simple olive tapenade; tapenade is of Provençal origin, often eaten in the south of France as an hors d'œuvre, spread on bread. The phrase "hors d'œuvre" always makes me chuckle, as my maternal grandma literally pronounced it exactly as it looks... "Are we having any Horse Doo Vers?"

First I added only one tomato (roma) and doubled the amount of sun dried tomatoes. Pulsed everything and I have forgotten how quick, easy and delicious tapenade is to prepare. I really need to add it to the menu more often. Used a variety of imported olives including nicoise and I'm sure one or two Greek/Italian olives sneaked in the back door. The tomatoes and various olives including green ones were an added color bonus, too. No salt (the olives were quite salty on their own) and lightly drizzled with extra virgin olive oil for presentation. Recipe was required to prepare this recipe: Recipe #229763 and read how I showcased the tapenade . Thank you!
Pulse olives and garlic in food processor until finely chopped. Stir in tomatoes and pine nuts.
Serve spread on french bread lightly brushed with olive oil.