Calee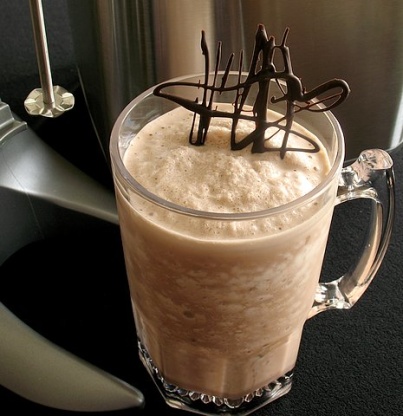 I worked as a barista for 2 years and I tend to be very picky when it comes to specialty coffee drinks. Living in an area where there is a coffee stand on every corner I have tasted so many different versions on each drink so I know that though everyone will use the same ingredients for the most part, quantities and quality matter! This is my simple yet satisfying Mocha Frappe. Although I am sure many might think to substitute for the ingredients to suit their tastes/diet or to use what they have on hand, I hope you will reconsider and use store bought chocolate milk if you can because it is thick and creamy which will make a difference. For variations to this recipe you could add a bit of coconut extract or other flavors, or even flavor syrups. And top with whip cream to make it extra delicious! If you don't have the chocolate milk it is ok to substitute with half and half (can be fat free) and some chocolate syrup as I have found that still gives it enough thickness.

Top Review by Calee
*wow* Im not a coffee drinker but this was delicious! I had coffee ice cubes in the freezer and used them but next time I want to try adding the sugar and see the difference. This drink isnt overly sweet. I couldnt find java chip ice cream so I used Breyers (fat free) cappuchino chocolate brownie chunk. Very good idea with the chocolate milk. I agree with Hope they do taste like the star drinks without the heavy price tag and something you can easily make at home. Thanks for sharing this drink one I look forward to making again.
Note: To make frozen coffee cubes, brew a strong cup of coffee (I use instant since nobody else drinks it) and add sugar or splenda to taste. Then freeze in ice cube tray.
Blend coffee cubes and milk in blender until large chunks are gone.
Add ice cream and blend til combined and still fairly thick.
Enjoy!