Simple Mexican Rice and Bean Bake
IngridH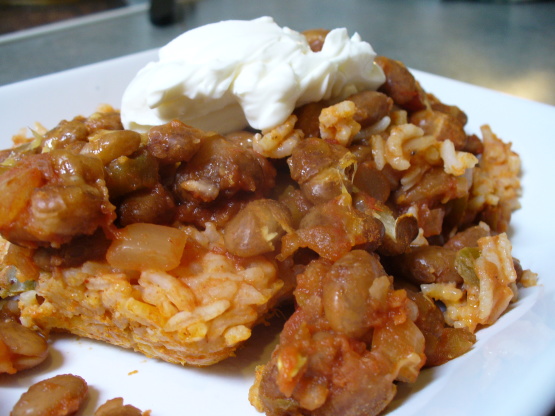 From Betty Crocker's New Eat and Lose Weight Cookbook.

I am eating this right now and it is AWESOME!!! I gave it five stars for the flavor and for the fact that it is probably the quickest and easiest thing I've ever made. I topped it with green onion and cilantro, and non-fat plain yogurt. You could vary it with different types of salsa, or perhaps add ground beef to the egg-and-rice mixture. If my husband leaves any leftovers, it will be great for breakfast. This is sure to be a staple in my house! Update: made to drop off uncooked at my sis & bro-in-law's house who had just come home with their new baby. The loved it. I only had Monterey Jack cheese on hand, used brown rice, and this time only had a can of refried beans instead of pinto.
Preheat oven to 350°F.
Grease an 8in square baking dish.
Mix rice, egg, 1/2 cup of salsa, 1/2 cup of cheese and chili powder, press into bottom of dish.
Mix beans and remaining salsa.
Spoon over rice mixture.
Sprinkle with remaining cheese.
Bake 30 minutes.