Simple Marinated Vine Ripened Tomatoes
Derf2440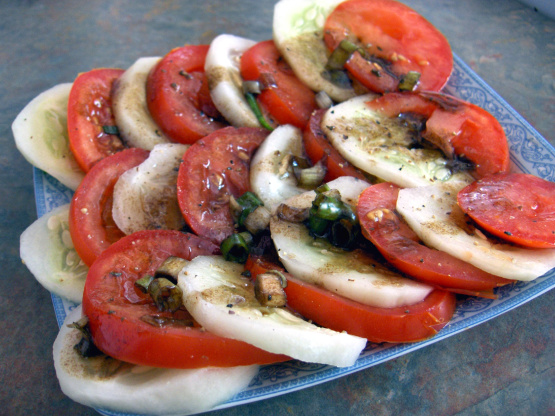 A side dish that goes with anything, can be added to a green salad with the marinade as the dressing or serve alone, regardless they are delicious!!(chill time 1 hour)

This recipe is fantastic! I could eat this for breakfast, lunch and dinner! This would go well with almost any main course. Easy to make and perfect for summer! This is a refreshing recipe I could eat over and over again! When I close my eyes it makes me feel like I am in a very expensive restaurant except that these tomatoes are better than most of the food you normally get in an expensive restaurant! GOOD JOB Dorothy!!!
Put tomato slices overlapping in a low glass dish.
Put marinade ingredients in a jar with a lid and shake to blend.
Pour marinade over tomatoes, so that all are covered.
Cover with plastic wrap and chill for at least one hour.